Wharton WEBINAR 4/1 11:30 AM PT :: Kaihan Krippendorff, Driving Innovation from Within
Join Wharton alumnus and author, Kaihan Krippendorff W93 Eng94 as he shares insights about how most innovation happens from within organizations, not just at start ups. Learn how you can harness the entrepreneurial spirit of your teams!
Wednesday, Apr. 1st | 11:30 am PT
Zoom webinar
"Innovation" brings to our mind the maverick entrepreneur who quits their job, at unimaginable odds, to build a business on their own. But this entrepreneurial story is a myth. As a successful entrepreneur, author, consultant and CEO, Kaihan Krippendorff (W'94, Eng'95) argues that intrapreneurs – employees who incubate new businesses within corporations – have had a far greater impact on the world. Nearly all of the most transformative innovations over the past three decades, from e-mail and the Internet to DNA sequencing and MRI scans, were introduced by employees who did not quit their jobs but instead took the challenge of innovating from within.
Drawing on five years of in-depth research of hundreds of successful innovators and Intrapreneurial Intensity, as well as insights from thought leaders, C-suite leaders, business unit leaders, and front-line employees, Kaihan will share exclusive insights from his new book, Driving Innovation From Within: A Guide for Internal Entrepreneurs (Columbia University Press, 2019). Kaihan will unveil the most critical internal focus areas for driving innovation and moving your organization forward into the future. He will share specific tools, frameworks and techniques used by successful innovators to manage and unlock the value of employees' ideas to increase corporate innovation levels and deliver bottom-line results. Audience members will have actionable next steps to transform their organization by testing and scaling fresh ideas that generate value and growth.  They will leave feeling inspired and empowered, ready to take on the future.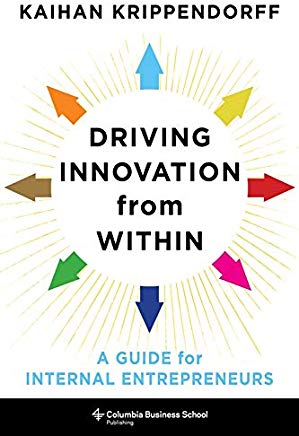 In this inspiring session you will learn:
The IN-OVATE Framework
The seven barriers of internal innovation and how to overcome them
The six characteristics of Internal Innovators
The seven steps to build an agile innovation team
How to disrupt your competition without disrupting your business
What it takes to lead an innovative organization
How to shift your organizational mindset and culture to challenge the outdated status-quo
How to build a wave of internal support for growth, innovation and creativity by reinforcing the idea that innovation is possible, attainable, and ultimately actionable
Event Details
Tickets: FREE
Attire: Business on top, PJs on the bottom. ;-)
Date: April 01, 2020
Start time: 11:30 a.m.
End time: 12:30 p.m.
Venue: Zoom Webinar - details emailed to RSVPd guests